I think every woman should own at least one pair of the famous red bottom shoes. Invest in basics, the reason why I think the Pigalle Pumps are perfect to start with. They are available with 100mm and 120mm heels, since they don't have platforms, I think it the 120mm would be hard to walk around for a long time. If you don't plan to walk a lot with them, then choose the 120mm.
Another basic that I recommend are the definitely a pair of nude pointed pumps. Again, I choose the red bottom, because it's just so classic and a timeless design.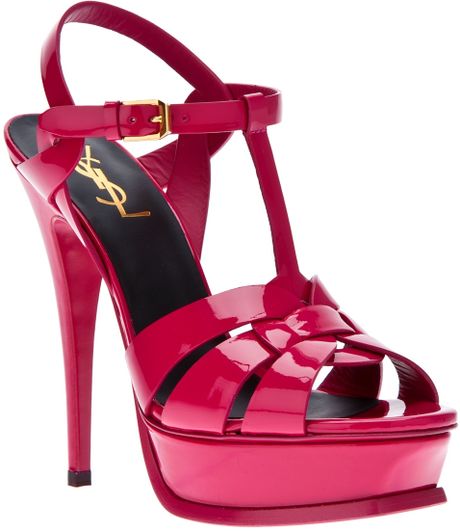 Another timeless design, YSL's Tribute. Available in many colors, also some with a lower heel(750mm), the normal heel is 105mm. Since it has a platform, it's also not too painful to walk in. I choose fuchsia because I already have too much shoes in classic colors like black or nude, also really love royal blue one.
Do you believe in love at first sight? I do, when it comes to shoes! But like everybody says, love hurts, so does the price of these shoes. The whole shoe is embellished with swarovski crystals, originally 2295 Euro, but right now on sale for "only" 1377 Euro. I want them so badly (TT_TT)
Just one pair of Jimmy Choo isn't enough, it's also hard to pick just one pair of Jimmy Choo, right? XP
Ain't no shoe party without the classic Valentino Rockstud, available in various colors and different heel heights.
Probably the most famous shoe design of Sergio Rossi, every shoe junkie should know about the mermaid. Covered in Swarovski crystals, also available in different colors. There is also a version without the crystal and it's about 600 Dollar cheaper than the pair with the crystals.
Yes, those shoes are kinda fancy, but so pretty! (*o*) Butterflywings are involved in several other shoes designs of Sophia Webster, if you're into that butterfly design, you should definitely check out the other shoes from this brand.
This brand is just so OMG! Gold&Black and Gold&White is just a genius combination.